This article will take you through the proper setup and linking process for Facebook accounts to ensure reliable posting. If you are troubleshooting an error, such as
"Insufficient Permissions"
, reviewing these steps may help resolve it.
1. Checking if you have "Select All" chosen when linking Instagram accounts
When you link an Instagram account, you'll want to always click "Select All" ONLY when you are redirected into Facebook. To check if you have that already selected, follow these steps:
Navigate to brand settings. Next click Add New, then on Facebook.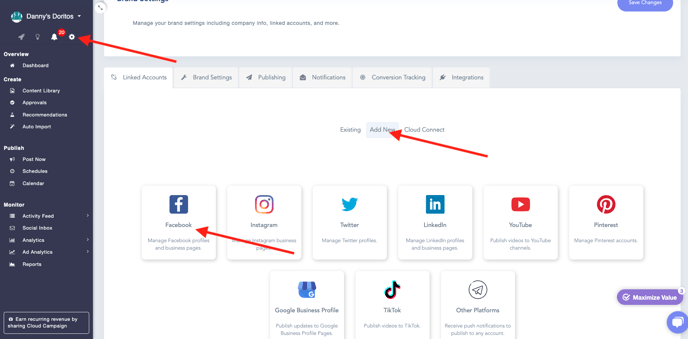 Once this screen pops up, click on Edit Settings.
When you arrive on this page, make sure to click "Select All" for the Facebook drop down.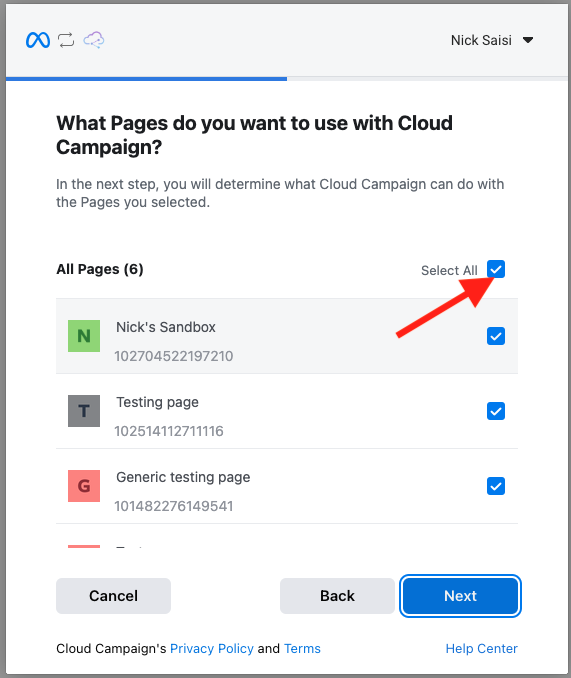 NOTE: It's important to note this process will not link the accounts to Cloud Campaign. When you get to the final step of linking an Facebook account, and are redirected out of Facebook, at that point you would only select the account(s) you want linked to that workspace.

If you've noticed that a Facebook page is missing when you go to link that page, the steps above will help resolve that.
Next we'll check the Business Integration Settings for Cloud Campaign. Click Next on the above screenshot until you get to the screenshot below.

Click the blue Business Integration Settings hyperlink in the text shown below
Click on "view and edit" next to Cloud Campaign. Then, ensure all toggles are turned on and any lists of accounts you see in there have all the accounts selected (you can click the - symbol at the top right of each list to select all). Verify that all of the accounts are registered in the drop-down.
Once you have verified all of the Business Integration Settings have been turned on, click save and close the tab. Next, navigate back to the previous tab of Facebook that was open.
Once you are there, click OK. The setup wizard will take you out of Facebook and into the linking portal. From here you will select the account(s) that is connected to this brand workspace.