Please Read Entire Article to Resolve Issue
We are aware of a "User Access Restricted" error some users are experiencing when posting to Instagram.
The root cause of this issue stems from the account information Meta uses to secure and validate accounts. Per Meta, the trigger for this error is when an Instagram Professional account has become inactive, check-pointed, or restricted.
Meta advises the user to sign in to the Instagram app and complete any actions the app requires to re-enable their account.
If you have experienced the "User Access Restricted" error when posting to Instagram, please take the steps listed below:
Log in to the affected account through Instagram's website.
IMPORTANT NOTE - the error cannot be resolved by logging into the mobile app on a phone or other device!
Once logged in, Instagram will present you with a screen asking you to enter the missing information, such as a birth date.
When prompted, enter the requested information.
IMPORTANT NOTE - if Instagram asks you to enter a birth date, you will need to enter a date that would present the user as over the age of 13. We highly recommend that you set this date as 21 or above. If a birthdate that is less than 13 years is entered, you will have to enter a new birth date and provide proof by uploading a photo of your driver's license
Once you've completed these steps you will be able to resume posting to Instagram through Cloud Campaign as normal.
If you have any questions or need further assistance, please reach out to our support team at support@cloudcampaign.com.
UPDATE 08/2023:
We've noticed that there's another possible cause of this issue, relating to settings within Meta Business Suite. Here's the steps to check that possibility:
1. Go to business.facebook.com and switch into the page that the Instagram affected is connected to. Click the "Settings" icon in the bottom left of this page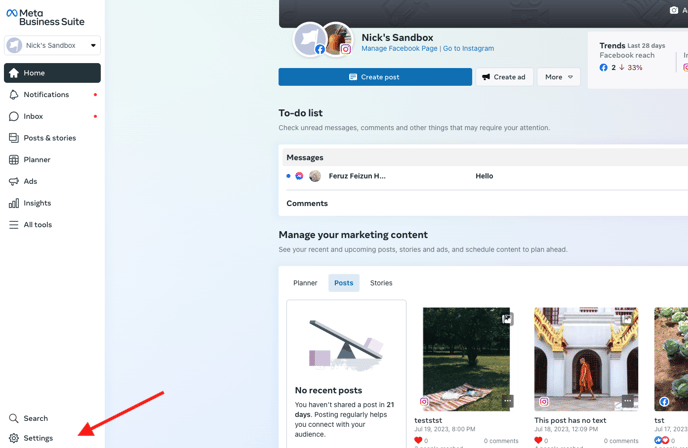 2. Click on the user you're logged in as (will show as (You) for that user), and click "Manage" next to the IG account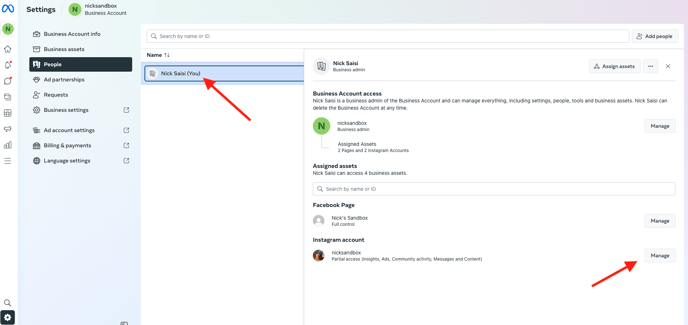 3. If Meta is requiring you to "Log In" on the page below where the arrow is, you'll need to complete the log in request to resolve the issue. If it doesn't show any Log In request, no further action is needed