This article will take you through the proper setup and linking process for Facebook and Instagram accounts to ensure reliable posting.
If this is your first time linking accounts, start from the beginning.
If you are troubleshooting an error, such as "insufficient permissions", reviewing these steps may help resolve it.
Before Linking Your Accounts
Before linking your first Instagram or Facebook account, follow these steps to ensure your accounts are set up correctly:
Check that your Instagram account is set up to be a business account, and not a personal or creator account.
Log in to the Instagram account via a web browser and then click on More, on the bottom right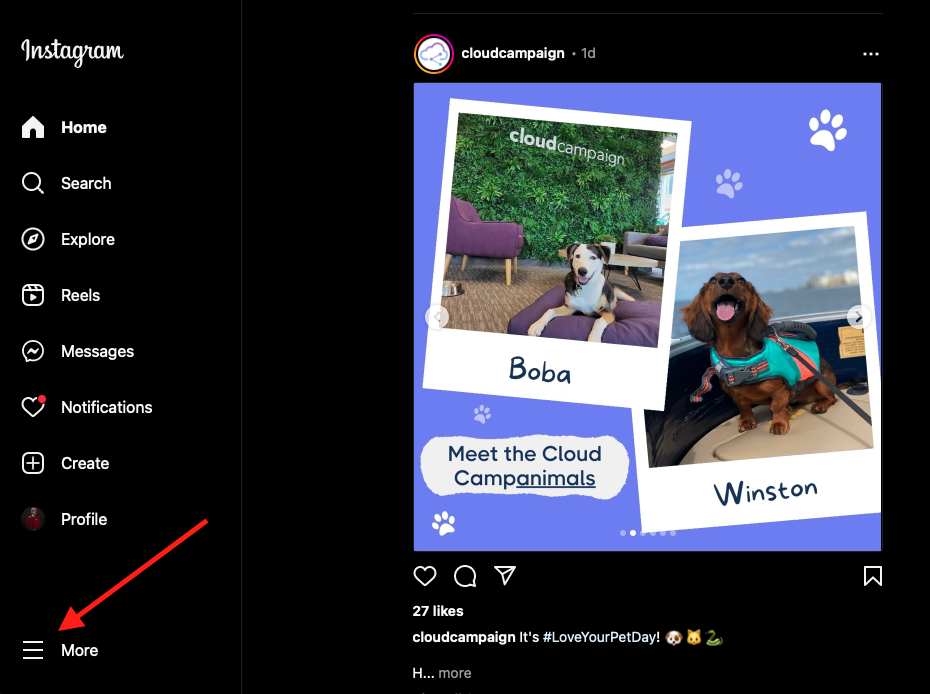 Then click on settings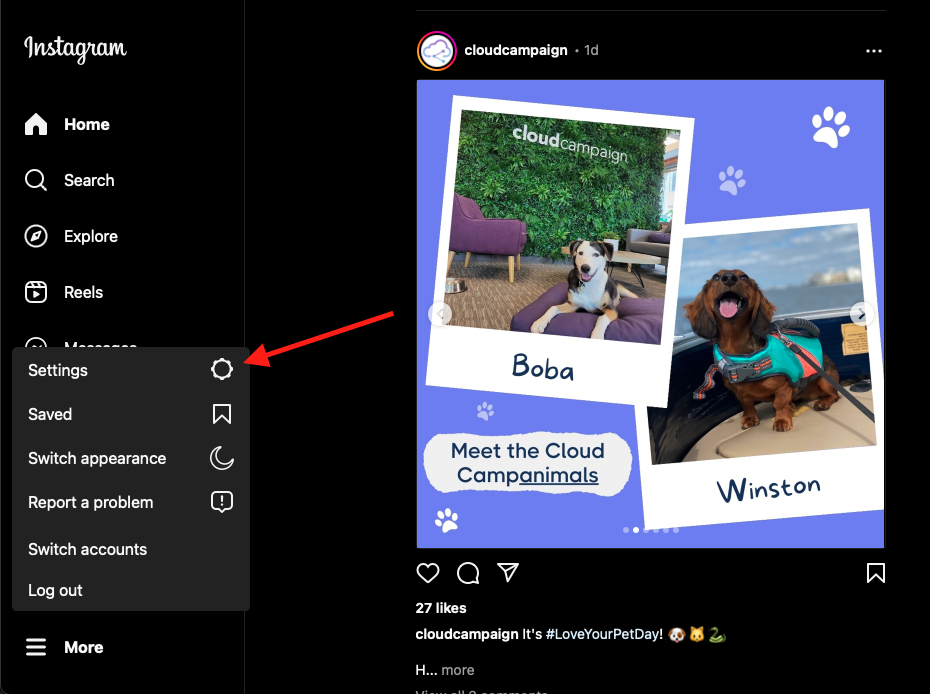 Then click on Professional Settings, and then click on "Switch to business account account"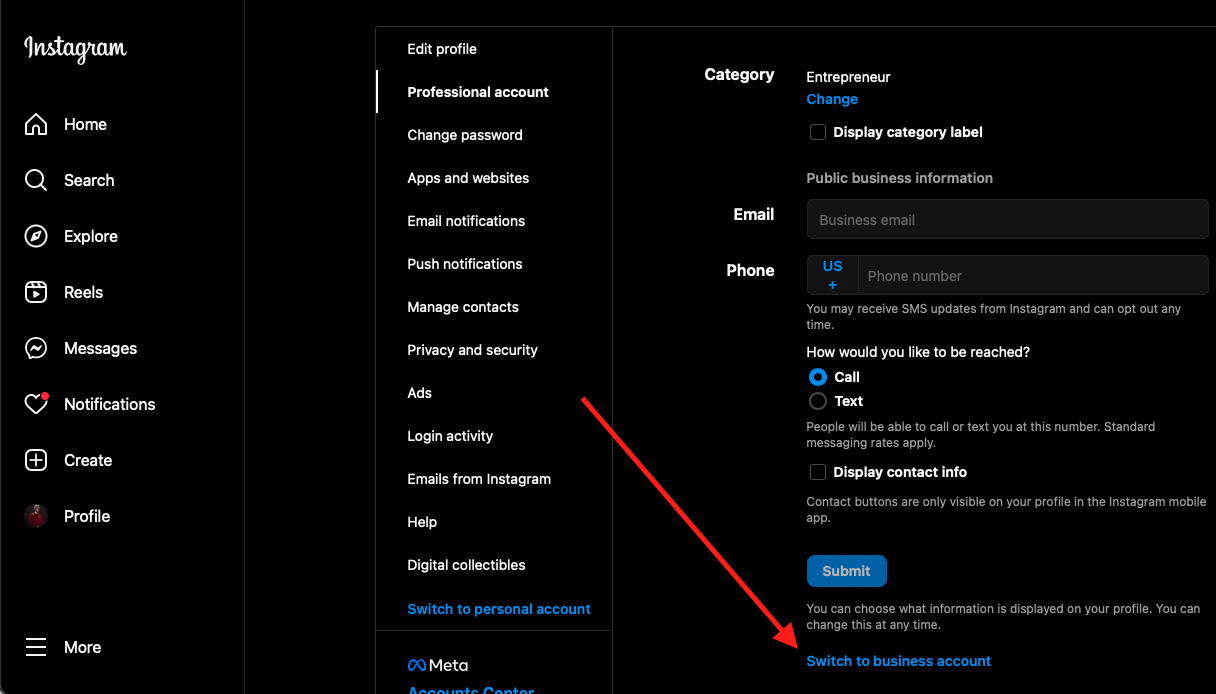 ---This is how you can check via the Instagram mobile app---
Navigate to the profile page of the account you are wanting to link. Once there, tap the 3 bars in the top right corner
Next, tap on Settings. Once in settings, tap on Account.
In Account, scroll to the bottom to find "Switch Account Type" in blue text, as shown.
If the options presented show "Switch to Personal Account" and "Switch to Creator Account", then you have set up the account correctly.
If one of the options shows "Switch to Business Account", tap that option to change it to a business account.
2.Check the connection status of your Instagram account to the specified Facebook page.
Open the Facebook page that should be linked to the Instagram account. Click the page icon in the top right and click settings.
Once the settings page loads, scroll down on the left-hand side menu again until you see "Instagram", and click there.
The connection will look like this when fully complete:
!!This step can only be completed by the original creator of the account!!
3.Verify you have the correct page role/permissions for the Facebook page that has the Instagram account connected to it.
This can also help troubleshoot problems with Facebook accounts!
You can access page roles from the same settings as the previous step on the left-hand menu.
Verify that you have admin access to the page. If not, you will need the owner or another admin to grant you admin access.
Ensure you are signed into the admin account for the Facebook page when linking the Business account.
Once you have completed these steps, your account is ready to be linked to Cloud Campaign!
During the Process of Linking Your Accounts
When you are adding new Facebook or Instagram pages, there are a couple things to watch for:
1.Navigate to brand settings. Next click Add New, then on Instagram.
Follow the prompts presented on the warning page.
Once this screen pops up, click on Edit Settings.
When you arrive on this page, make sure to click "Select All" for both the Instagram and Facebook drop downs.
It's important to note this process will not link the accounts to Cloud Campaign. This process will just grant the permissions required to access the accounts you want to link.
2.Once that is completed and you reach this pop up, click the blue hypertext "Business Integration Settings"
This can also be found via the Facebook page's settings directly.
Click on "view and edit" next to Cloud Campaign. Then, ensure all toggles are turned on and any "select all" drop-downs that appear have "select all" clicked. Verify that all of the accounts are registered in the drop-down.
Once you have verified all of the Business Integration Settings have been turned on, click save and close the tab. Next, navigate back to the previous tab of Facebook that was open.
Once you are there, click OK. The setup wizard will take you out of Facebook and into the linking portal. From here you will select the account(s) that you want to link to this brand.
When using Cloud Campaign (not Facebook) to link accounts, only click the accounts you want to link.
After Your Accounts Have Been Linked
Now that your accounts are linked, there are a few things to look out for if you run into any posting issues with either Facebook or Instagram.
If you receive an error stating "insufficient permissions" on a post for Facebook or Instagram, read this!
1.Ensure the account hasn't been changed from a business account using the same steps from part 1.
2.Go back through the "select all" drop downs when linking a new Instagram account, and ensure that option has not been deselected for both Instagram and Facebook sections.
3.Check the status of the link between your Instagram business account and your Facebook page.